What AI Has In Store For The Food service Industry
November 19, 2018
Technology has long been improving lives and industries in a wide variety of ways, but new innovations continue to surprise and amaze us. Recent years in particular have seen high tech innovations develop at a rapid pace and companies scrambling to adapt to them. All eyes are currently on artificial intelligence (AI) because of its massive potential to disrupt various sectors. A Gartner report predicts that AI may reach $3.9 trillion globally by 2022. Its growth drivers will be the technology's customer experience capabilities, revenue from current and future products and services, and cost reductions.
For the uninitiated, AI works by collecting large volumes of data and processing them via algorithms set by developers. Ayima notes that AI stands out because of its machine learning capabilities, which allows a system to actively learn from data instead of following static programming rules. After AI learns enough information, the algorithm becomes complete, allowing it to perform specific tasks. With this, developers can apply AI in countless ways.
Naturally, there are many potential uses for AI in the food service sector. We previously highlighted the power of data in our top marketing strategies for restaurants here on Total Food Service, but the truth is, data used by AI has the capacity to disrupt many operations outside of marketing. Here is how the technology has helped the industry so far.
Food Preparation
Robot chefs do exist, but not in a way science fiction movies have typically portrayed them — at least not yet. Today, robot chefs are essentially food processors and appliances that need minimal supervision in the entire cooking process.
For instance, Miso Robotics invented an AI cook that can work either the grill or the fryer. The AI technology can recognize and monitor food items, as well as adjust its cooking times for the optimum result. It continuously learns how to do so through a cloud-based monitoring system. What's more, it is already being deployed at a few establishments, namely, Caliburger and the Dodger Stadium.
Customer Service
Restaurants are now using virtual assistants to help with common customer inquiries and orders. For instance, Domino's Pizza recently developed its Facebook chatbots to receive orders from customers on any menu item. These bots are designed to gather relevant information, and customers only need to type in the word "Pizza" to start the order process.
Meanwhile, Starbucks also developed a mobile app that allows customers to order food or drinks via voice recognition. Customers can even have their orders modified to their preferences, like how they would normally request baristas to do. The bot is also designed to help process payments.
A more high-tech approach can be seen in Softbank's AI-driven robot waiter called Pepper, which can take customer orders, provide menu recommendations, and accept payments via Mastercard. While the robot features stiff robotic speech, customers can use normal speech to interact with it. These Pepper robots are already deployed in Hamazushi restaurants in Japan.
Supply Chain
Smart logistics can significantly improve the food supply chain by minimizing the waste. For example, Seeloz has developed an AI solution that leverages records and accurately determines customer needs at each establishment. Then, it automates procurement and inventory management processes accordingly. With this system in place, it lessens the chances of products expiring.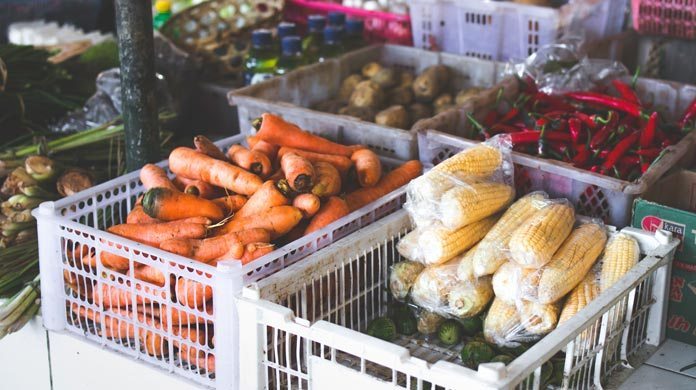 Other supply chain-related technologies can track products from point A to point B, thereby providing transparency to customers. Tracking is often applied in food delivery services, but it can also be offered by supermarkets through apps to ensure customers about where their food items are sourced.
Food Safety and Quality Assurance
AI machines or devices may help improve food products and services by checking the items' quality and safety, as well as the hygiene of food workers.
One example is a handheld food scanner, which can now be used to identify chemical compounds in food items. The Food Navigator's feature on TellSpec's tool reveals that it uses bioinformatic techniques and AI algorithms. It can analyze molecules in food and determine whether they are safe to process or eat. One version of the tool can detect fish fraud, while another device can measure the sweetness or acidity of fruits and vegetables.
As for personal hygiene, Chinese company KanKan created a system that uses cameras as well as object and facial recognition features to monitor which workers are wearing safety masks and hats. If it detects a violation, the system saves a screenshot for authorities to review.
A Future for AI in Food Service
It is definitely encouraging that the food service community is open to new technology. For instance, the NYC Hospitality Technology Summit last year revolved around trends in operational technology as well as data integration. Participants here acknowledged that businesses that embrace these AI solutions and harness them properly stand to benefit from them greatly.
Today is an exciting time for the food service industry, as more and more innovative AI applications are developed. It is then quite reasonable to picture a significant and technological transformation of the sector in the near future.